Billythekidd 2757
Billy (born June 22 1994) is an Active Original, American captioner from New York City. He started Captioning in April of 2011. He is a fan of the  Yankees,Jets and Rangers and also a pro wrestling fan. In his captioning career, he has won 3 caption contests. He is the youngest Captioner until proven Otherwise
His Caption Wins
Edit
May 21st 2011
Theme: MR Met talking to Reyes and Beltran anout Wilpon.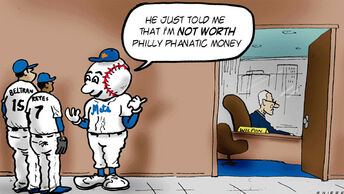 "He told me I'm not worth Philly Phanatic Money"
June 12 2012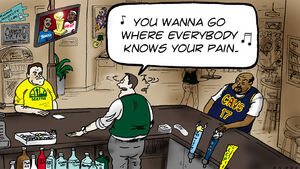 theme: Sonic and Cavs fan watching game 1 of the NBA finals
' You wanna go where everybody knows your Pain"
July 30th  2012
Phelp talking to Lochte after an Olympic race
"They put a photo of me on the cereal box and now it won't close"
Nervous Editor award
Edit
In January of 2013, Billy created the Nervous editor award. The award is given to the person that draws the line in their caption attempt.